Recycling and Collection Site
The Town of Rhine Collection Site is located at W6426 County Road EH, just east of State Highway 67
​
Hours of Operation
8:00 AM TO 4:00 PM Saturdays
​
THE SITE IS NOT OPEN TO THE GENERAL PUBLIC ONLY TO TOWN OF RHINE RESIDENTS.
THOSE FOUND DUMPING AT TIMES OTHER THAN THOSE POSTED ARE SUBJECT TO FINES​
It would be appreciated when you bring in a larger item (TV stand, dresser etc...) if you would knock it down as flat as possible to take up less space in the dumpsters. This would also be helpful when bringing in cardboard boxes. The more we get in the dumpsters, the less it costs us in transport charges. Thank you for your cooperation in this matter.
Fluorescent green ID Tags were mailed to each property owner in December 2020. If you have not received yours, please contact the Town Hall Office at 920-876-3413. Lost, stolen or replacement tags are available for a fee of $20.00. Tags must be presented upon entering the Collection Site.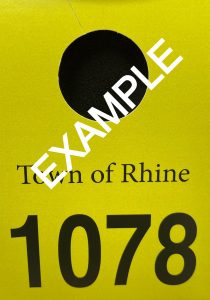 ITEMS ACCEPTED AT THE COLLECTION SITE
​Bagged co-mingled recyclable materials including glass, plastic, aluminum and steel containers (must be rinsed and caps removed)
Clear bagged household garbage
Bundled newspapers - not in plastic bags
Bundled magazines - not in plastic bags
Bundled chipboard - not in plastic bags
Flattened cardboard
Used furniture
Ashes (in small quantities). Ashes from burning barrels cannot be accepted due to the possibility of hazardous materials
Branches or brush (if inspected)
Leaves
Small amounts of wood and lumber
Ranges, water heaters and other METAL - must be disposed of in proper dumpster
Acrylic paint only if in open and dried cans
Tires ($10.00 per car tire, $20.00 per truck tire, $40.00 per tractor tire) will be charged
Couches, mattresses, box springs, dressers, armoires, cabinets $10.00
Recliners $5.00
ITEMS NOT ACCEPTED AT THE COLLECTION SITE
Acids and bases, oil-base paints, and related products
Dead animals/carcasses
Live ammunition
Concrete, demolition materials from remodeling, renovation, razing projects (small amounts)
Household hazardous waste
Lawn and garden pesticides
Paint (other than latex - see above) and related products
Poisons, solvents & cleaners, thinners & varnishes
Drain oil and filters
Anti-freeze
Refuse from commercial and/or industrial sites