The Town of Rhine was established in 1852. It is a lush, green area in Sheboygan County that is primarily agricultural. The landscape is reminiscent of the Rhine River areas in Europe, therefore, its settlers named it as such. Several segments of Wisconsin's 1,200-mile Ice Age Trail run through the town and provide great hiking opportunities as well as bird watching and enjoying local wildlife. The town covers 34.6 square miles and it consists of a total of one square mile of water from its numerous lakes. This allows for wonderful fishing opportunities and lakeside walks. The rolling landscape is highly glaciated and provides cross-country skiing, snowmobiling, snowshoeing, and off-road biking and rode bicycling opportunities. Summers are warm and humid and the air is filled with the sounds of crickets and frogs...and mosquitoes, known as the "other State bird". Winters can be challenging with icy road conditions and snow drifts over the winding country roads, but its beautiful snow covered fields, rolling white hills and ice covered tree branches give it a serenity many of the residents cherish.​
Rhine also boasts one of the oldest Civil War Monuments in the state. In April 1867, the citizens of Rhine approved funds to erect a large marble monument. It was dedicated July 4, 1868 to honor the 115 men from the Town of Rhine who volunteered to serve our country in the Civil War and the 23 who never returned. Each year a Memorial Day celebration takes place near the monument site.
For more information and a featured article of the monument, please click here.​
Other resources on statistical data, income and industry, please click here.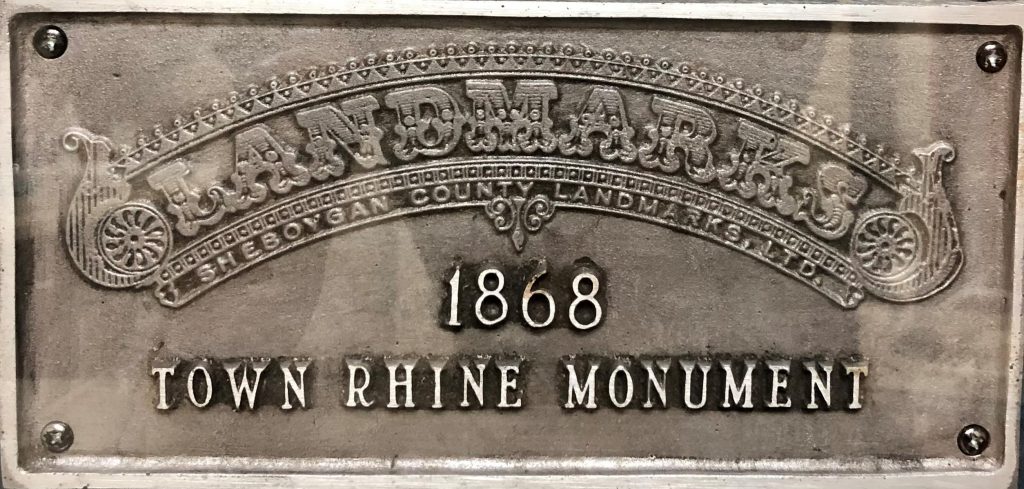 Notable people include:​
Philip H. Kasper (1866–1942) was an American businessperson and cheesemaker who earned the title "World's Greatest Cheesemaker" from competitions around the United States and internationally. Born and raised on a farm in the town of Rhine. In the 1890s, he helped organize the Wisconsin Cheesemakers Association. Serving as Vice President in 1918 and President in 1929 and 1930. In 1941, Kasper was honored by Joint Resolution of the Legislature of the State of Wisconsin as "world's champion cheesemaker."​
Otto A. La Budde, (June 11, 1865- October 14, 1940) was a businessperson and Wisconsin State Representative that was born in Rhine. He attended Plymouth High School in Plymouth, Wisconsin. La Budde was a Democrat and was chairperson of the Wisconsin Democratic Party. He served as president of the Village of Elkhart Lake, Wisconsin. In 1911, La Budde served in the Wisconsin State Assembly. In 1919, President Woodrow Wilson appointed La Budde customs collector for the Port of Milwaukee, Wisconsin and then, in 1933, President Franklin Roosevelt appointed La Budde internal revenue collector for Wisconsin.​
George W. Wolff, (April 4, 1848 – April 1, 1919) politician and farmer born in Rhine. He was a member of the Wisconsin State Assembly (1895–1897) and the Wisconsin State Senate (1901–1907). He attended high school in Sheboygan, Wisconsin. Wolff served two terms in the Assembly before serving in the Senate from 1901 to 1909. Additionally, he was Chairman of The Town of Rhine from 1896 to 1906 and a member of the Sheboygan County, Wisconsin Board of Supervisors from 1886 to 1906, serving as Chairman from 1895 to 1904.